From the Desk of the President: Onward & Upward
Dear Friends and Colleagues,
Year after year, Boston University ascends as a major global research institution. Fiscal year 2023 was no different. We're continually reaching for the next breakthrough, the next innovation, the next impact.
Our researchers made groundbreaking strides studying the brain, from the connection between memory and depression to exploring ways to better protect athletes from traumatic head injuries. At our National Emerging Infectious Diseases Laboratories, virologists and microbiologists are investigating viral threats. And one of our engineering professors recently received FDA approval for his "bionic pancreas," bringing relief to millions of people with diabetes. These efforts and many others drove our sponsored research awards to a record $645.6 million in FY2023, including generous international support for CARB-X, the BU-led consortium confronting antibiotic resistance around the world.
Our junior researchers are on the rise, too. In fact, five of them received Faculty Early Career Development Program (CAREER) awards from the National Science Foundation to advance their scientific research in topics ranging from mass incarceration to the brain and lungs to robots that can reason.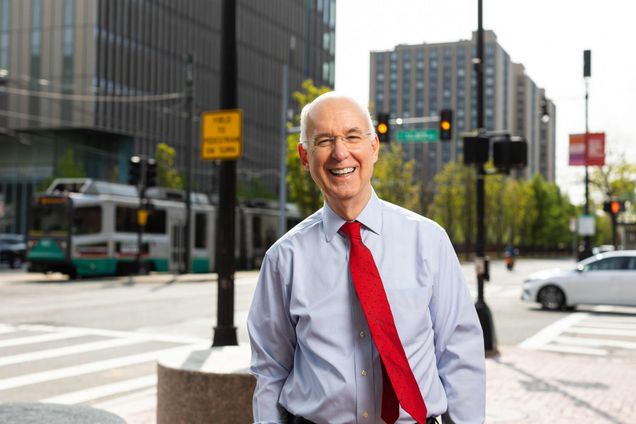 BU is a popular destination for students around the world. We received more than 80,000 undergraduate applications for our Class of 2027. We admitted 10.85% of those applicants, and enrolled 36% of those admitted—our highest yield ever.
We must respond to unanticipated challenges in the larger world—from the rapid and increasingly sophisticated development of artificial intelligence and its role in the classroom and the lab to the disappointing US Supreme Court ruling on affirmative action. While we will adjust our admissions practices in the wake of the high court's decision, our commitment to inclusive excellence—built on a diverse student body—remains resolute.
We opened the new LGBTQIA+ Student Resource Center in fall 2023. We also hired renowned education scholar Anthony Abraham Jack as an associate professor at our Wheelock College of Education & Human Development and faculty director of the Newbury Center for first-generation students. Jack plans to focus his research on the experiences of disadvantaged students and how their talents can be nurtured in academia.
We also witnessed tremendous support from our global community, closing FY2023 with $273 million in donations, a 12.3% increase over last year and a new record for BU. It is humbling—and inspiring—that so many people believe in the work we're doing.
One of the major milestones of the past year was the conclusion of the remarkable 18-year tenure of my predecessor, Boston University President Emeritus Robert A. Brown. After his final semester as president in spring 2023, the community thanked Dr. Brown for his unwavering dedication to this University and for laying the foundation upon which we continue to grow, transform, and create impact. And continuing this upward trajectory, the trustees appointed Dr. Melissa L. Gilliam—a veteran administrator, educator, scholar, research scientist, and physician—as BU's next president. 
Making progress is never easy. It's a methodical and deliberate climb, and for every summit we reach, we know another lies beyond. As an institution and a community, we move ever forward, ever upward.
Sincerely,

Kenneth W. Freeman
President Ad Interim, Boston University